Issue description:
Bought the app. Played around a bit (video replay worked just as usual). Then I headed into the settings menu. Changed a few things that I considered harmless, e.g. don't show collections with less than 2 movies. Since I came back form this short adventure, playing videos don't work anymore. It used to just play them, now it shows me the options you can see in picture 1. The first three I don't necessarily completely understand, but the first one seemed to be the right one. It doesn't do much as you can see in pictures 2 and 3. Plex option works and so does the Samsung Video player, but both of those options are way worse compared to how it used to be.
I'm absolutely mind-boggled by what happened here. The same account with the same host details work perfectly on plex too … so what changed? Reinstall, settings reset, phone reboot - nothing worked.
Changing the video player from default to mx player or vlc changes absolutely nothing. I don't think any of those three are even attempted to be opened - I don't understand that interface shown especially in picture 3. What is that supposed to do? It even stays in german when I change yatse language to english - it looks and feels so off. I want it to go away and have my normal video player back

Any ideas?
Logs:
Screenshots: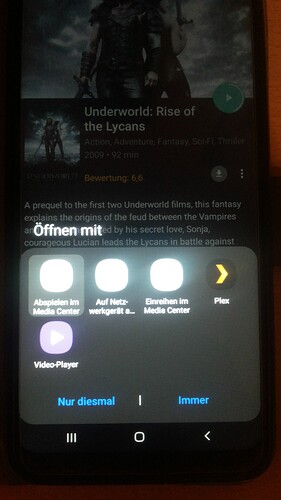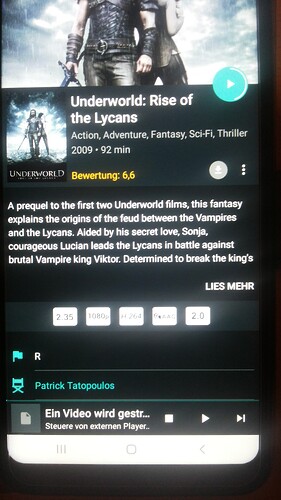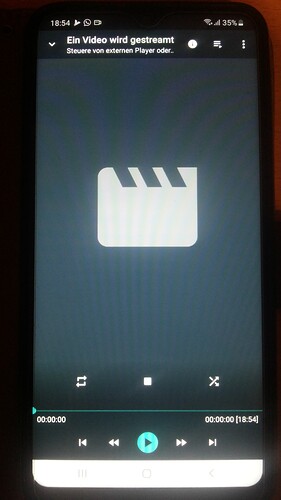 Additional information:
Using Yatse to connect to Plex. Connection is fine, I just can't play the movies anymore.
some strings for googlers:
"Steuere von externen Player".
"Steuere von externen Player oder Playlist".
"Ein Video wird gestreamt".